Basic Power was created in March 2014 to manufacture a power quality and kWh conservation technology – The Basic Power Unit (BPU™)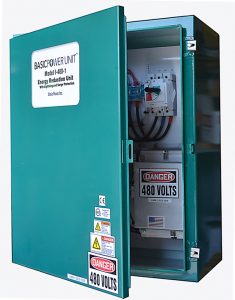 The BPU™ is a third-generation power quality technology
2000 – Bell Atlantic commission far lightning & surge suppression
2001 – "EPIC" Power Saver delivers 6%+ kWh savings
2005 – Energy Bank Unit delivers 8%+ kWh savings
2014 – Basic Power Unit delivers 11 º/o+ kWh savings
BPU™ Technology developed by Guy Lestician
Currently holding 90 Patents far electromagnetic devices, Energy efficiency devices via electromagnetic Sensing Electronic Ballasts, LEO Drivers Multi-wave UV Mercury Free Lamps
Start Saving Money Today! »
The Problem
The Issue With Energy
Educational, Institutional, Commercial and Industrial Facilities consume lots of power and because of this the cost of electricity will continue to rise.
Facilities experience a range of power quality issues including:
Utility side voltage irregularities, especially sags and surges.
Harmonic distortion caused by switching power supplies etc.
Diminished power factor & phase imbalances.
Large and expensive power spikes when motors start.
Unbalanced phases.
Lightning strikes.
Current solutions include:
Energy efficiency upgrades for lighting and HVAC and more efficient motors.
Adopting more energy efficient processes.
Alternative energy generation on site.
Enhanced energy data acquisition and energy management tools.
Single function power quality and transient surge suppression technologies.
The Basic Power Solution
The BPU™ is a mult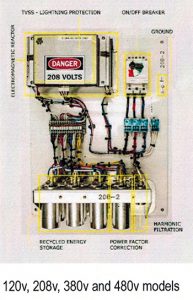 ifunctional power quality transformer that reduces kWh consumption while significantly clipping kW demand spikes.
The BPU™ makes the electrical energy within your facility more efficient so that you consume less.
Multiple Benefits

kWh Reduction
kW Spike Clipping
Voltage Optimization
Harmonic Filtration
Phase Balancing
Power Factor Correction
Sag & Surge Mitigation
Surge (Lightning) Suppression
The BPU™ is installed in parallel, connected to a breaker on a mains or sub-panel with no disruption to your electrical service or operation.
How Our Innovative Technology Works
The electromagnetic reactor is the heart of the BPU™
senses external electrical supply and internal electrical demand
continually adjusts to improve power quality within the electrical system
Uses interwoven magnetic fields to return harmonics to fundamental wave
Stores recycled energy and releases it to your equipment as it seeks more power

BPU ™ requires optimal ground. KWH and KW reduction benefits, harmonic mitigation plus surge and lightning suppression require each BPU ™ to have independent 8ft solid copper ground rod installed.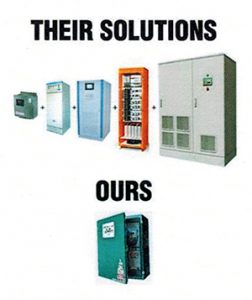 A Unique Technology
The BPU™ is the only technology in the world that uses an electromagnetic reactor to address multiple power quality issues and is the only technology that can sense, capture and correct non-sinusoidal AC power and return it to useful energy that can be used by your electrical equipment.
Competitor Comparison
Siemens, Eaton, GE and others manufacture single function power conditioners which are large and costly.
Our electromagnetic reactor provides power quality conditioning without the need for large capacitar banks and filter arrays. The BPU™ is a smarter solution at a much lower cost.
Unlike our competitors, we don't throw away the dirty power you've paid for. We make it work for you.
Start Saving Money Today! »
Evaluation, Measurement & Verification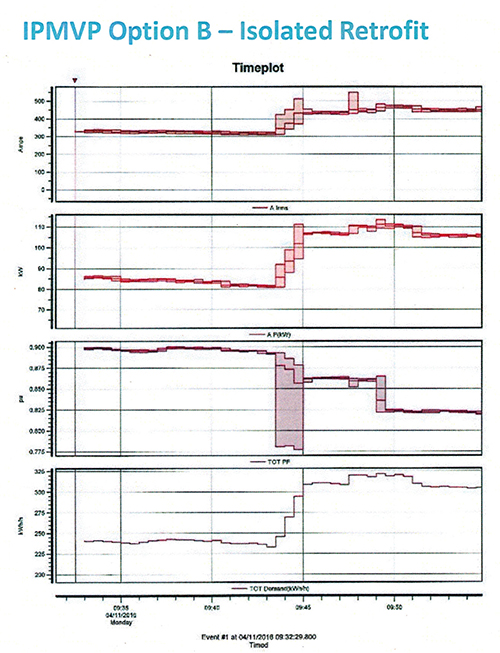 Energy Consumption and Power Quality Analysis at Installation Energy "Snapshot"
Short time plot in active buildings
Real time sampling
Off/On Comparison
Verifies BPU™ is working correctly
Verifies proper ground installed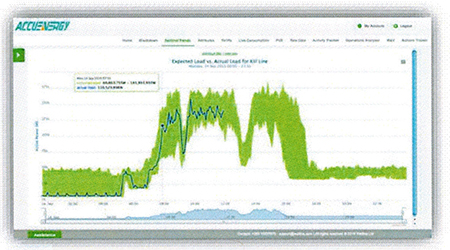 "At our test we saw a reduction of 26% Active Power"
– UTTC Engineering Report October 2015

"…Active Power savings of at least 25%…"
– Chicken Express Testimonials November 2015

"…Active Power savings of 10-12 percent…"
– Rone Engineering Testimonials February 2015
Start Saving Money Today! »
BPU™ – Commercial and Industrial Models

Scalability
Many facilities require just one BPU TM installed on mains panel
Facilities with multiple transformers (480V & 208V) may require additional units
Multiple units can be installed when kWh exceeds unit range
Payback
Cost of BPU™ to provide a ROI of 18 to 36 months based upon the following assumptions:
The technology reduces kWh consumption by 11 %
The client is paying 1 O cents per kWh
Installation costs do not exceed 10% of the unit cost
No ongoing maintenance costs
Status of Development of Technology
The BPU™ is a fully commercialized product. As of December 2015 there are 250 BPU™ units installed in US, Puerto Rico, Europe and UAE
Our distributors are selling into the following vertical markets
Water & Waste Water Treatment Plants
Refrigerated Warehouses
Supermarkets & Convenience Stores
Manufacturing & Heavy Industry
Federal, State & Local Government
Educational and Institutional Facilities
Hotels and Restaurants
Large Retail Stores

Start Saving Money Today! »
Summary
"Use what you pay for. Buy only what you need!"
Innovative and Unique
The BPU ™ is the only technology in the world that utilizes an electromagnetic reactor to provide multiple power quality improvement technologies within one small unit. Our sophisticated technology provides a more elegant solution to existing single function power quality devices in a fraction of the space and fraction of the cost.
The BPU ™ is the only power quality technology that can sense, capture and correct distorted (harmonic) energy and recycle it back into the fundamental sinusoidal wavelength to provide usable power.
We don't throw out the wasted power you've paid for, we save it, clean it and give it back to you.
The more efficient your power, the less electricity you to need to purchase.
The BPU ™ is so efficient it powers itself from a small portion of the energy it recycles and costs nothing to run.
A Proven Technology
The BPU ™ is a proven technology that reduces kWh consumption by 11%+. Over 250 installations in place. Engineering reports and client testimonials available.
Start Saving Money Today! »
Save